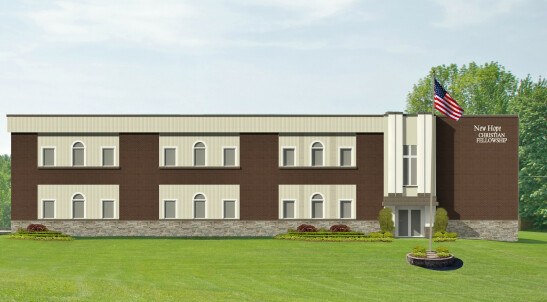 "Now may the God of hope fill you with all joy and peace in believing,
that you may abound in hope by the power of the Holy Spirit."
Romans 15:13 NKJV

New Hope exists to . . . FOLLOW JESUS - REACH PEOPLE - TRANSFORM LIVES

New Hope Christian Fellowship was founded in 1993 in a quaint church building in Welshfield, Ohio. New Hope is a Bible based and Christ focused work of the Lord. We are casual and comfortable in our dress, but are passionate about Jesus Christ. Through a series of miraculous Holy Spirit events, we purchased and completely renovated the Auburn School, located at the corner of Washington St. and Auburn Rd. in Auburn Township.
Please click on the MINISTRIES link above for more details about our vibrant ministries. Our Statement of Faith is located on the ABOUT US link.
Pastor Ron & Chris

Pastor Ron was brought up in a denominational church and was miraculously saved over 30 years ago, after being prayed into the Kingdom by a group of faithful friends. In his early relationship with the Lord, Pastor Ron served in Children's Ministry. He answered the call of the Lord and attended Bible School. He continued to follow the leading of the Holy Spirit and began to work with Evangelist Dennis Heber of Bible Revivals Ministry, eventually joining Rev. Heber's board. Pastor Ron grew in his faith and call as he traveled to Jamaica, Haiti and different parts of the United States ministering the Gospel. He also continued his work at his local church in the Children's ministry and headed up local outreaches into the inner city of Cleveland, Ohio.

In 1993 Pastor Ron and his wife Chris were called to New Hope Christian Fellowship through a chain of very interesting Holy Spirit events. Since that time, they have sought the heart of God for HIS vision for New Hope and birthed many dynamic ministries.
Our Family

Pastor Ron and his wife Chris met in 1980. Although they were raised in a denominational church, they fell away in their teen years. The Lord had His hand on both of them throughout this "wilderness" time. They were saved at First Assembly of God in Lyndhurst Ohio in 1983. Pastor Ron and Chris married in 1983 and were baptized at First Assembly. They immediately began to serve in the Children's Ministry.

Pastor Ron and Chris have five children, Michelle, Ron, Sean, Kelsey and Tyler. They have eight grandchildren; Sara, Brooke, Alexa, Taylor, Kendall, Mark, Daveney and Theo.